Lovely villa with pool, Opatija, Croatia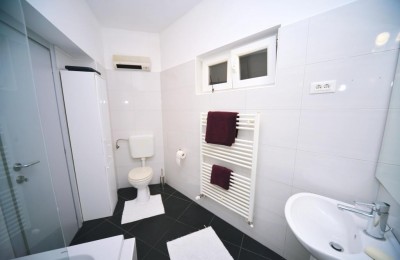 Code :

00335

Location :

Opatija

Building size :

400 m2

Lot size :

5000 m2

Distance from center :

6 m

Distance from sea :

6 m

Distance from airport :

26 km
on request
Download pdf
FEATURES
Number of floors :

3

Number of rooms :

5

Number of bathrooms :

6

Seaview :

Yes

Parking :

Yes

Garage :

Yes

Basement :

Yes

Air conditioner :

No

Elevator :

No

Heating :

Underfloor

Central heating :

No

Energy efficiency :

B

Year of construction :

1988

Additional building potential :

No
NOTE: We do not answer any possible errors in property descriptions, but we want to be as precise and accurate as possible.
DESCRIPTION
Exclusive villa, Opatija.
Villa of 400 m2, 6 km from the center of Opatija. The property has a private pool of 77 m2 and sea view. The villa has two kitchens, two living rooms, 5 bedrooms and 6 bathrooms. On the garden of 5000 m2 stretches and beautiful vineyard.
CONTACT THE AGENT